Call for Applications: Artist-in-Residence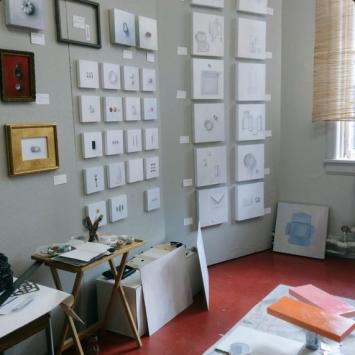 Studio and Housing for a Year
Application Extended through May 16
The Umbrella Community Arts Center in Concord, MA is proud to continue our Artist-in-Residence program for 2016-2017.  We are currently accepting submissions from artists in the first five years of their career who are not enrolled full-time in an academic program. Supported media include, but are not limited to: painting, works on paper, mixed media, performance art, and video art.
The Umbrella's Artist-in-Residence program provides space and support for a new artist to develop their work while connecting to the Greater Boston art community.  The selected artist will commit to regular, active, and productive use of the studio space from September 15, 2016 through September 1, 2017. 
The artist will give three evening presentations to the community throughout the course of the year, one in October 2016, March 2017, and September 2017. At the end of the year, the artist will mount an exhibition of their work from the program and produce a digital portfolio, which will become part of The Umbrella archive. 
The artist will also be expected to write monthly blog posts documenting their residency and to participate in the annual Winter Market and Open Studios events.
The selected artist will be awarded a 132 square foot studio that measures roughly 10' by 13' with a large window and south-facing light. They will also have the opportunity to live rent-free in a single bedroom cottage within walking distance of The Umbrella.  The studio does not support large scale 3-D work, ceramics, or any processes that create loud noise or toxic fumes.
To Apply:  Email the following information to miranda@theumbrellaarts.org by May 16, 2016:
Letter of interest outlining your specific interest in working at the Umbrella and how the program participation will affect your practice.
Artist statement
Artist resume or curriculum vitae with contact information
High-resolution JPEGs of 10-15 pieces of work created within the past two years

All files must be labeled as follows: FirstName_LastName(1)

Art list with dimensions, medium, and date
List of three references
A $35 non-refundable application fee, paid via the paypal button below or by a check mailed to The Umbrella Community Art Center, 40 Stow St, Concord, MA 01742
All applications will be reviewed by a jury of The Umbrella's staff and resident artists.  The selected artist will be notified by June 15, 2016.
For more information email miranda@theumbrellaarts.org.
2015-2016 Artist-in-Residence Sarah Fagan's Testimonial
"I grew up in New England, but spent many years in Portland, Oregon. The Umbrella residency was a way for me to move back to my "roots" and establish myself and my work in the art world of the Northeast. Regional art scene aside (and it is a wonderful one), I often need to push myself to explore outside of Concord itself. The town is a wonderful place to live and explore. The Umbrella is filled with good energy, inspiring working artists, and meaningful conversation. Then there is the magical red-floored studio itself, wherein I have produced more work than at any other point in my career. I will remember this residency as one of the greatest gifts I have ever, and will ever, receive. I will remember this year as the one where I found a substantial painterly voice."
2014-2015 Artist-in-Residence Nina Earley's Testimonial
"For an artist who has just finished graduate school, two of the most precious commodities are time and space. Leaving the structure of school, with its deadlines and feedback, and finding a way to establish a studio practice is a daunting task. This residency has given me exactly what I had been missing: a place where I can make art, complete with fellow artists with whom daily interaction is stimulating, and the time to figure out how my studio practice realistically fits into my every-day life. The opportunity to create and lead a collaborative project with fellow artists has allowed me to have meaningful conversations and learn about this historically rich area in a way that would not have been possible without this opportunity. As my work continues to change and I continue to make connections within this encouraging community of artists I am excited to see how this residency continues to impact my practice and work. This experience came at the perfect time in my life, and I would encourage anyone who is hoping to focus on his or her art, while exploring a new region, to apply."