Call for Art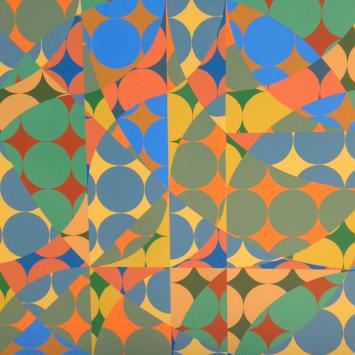 Driven to Abstraction @ Villageworks
A juried show inspired by Gifford Pierce
October 1 – October 31, 2017
Opening Reception: Friday, October 6 from 6:00-8:00pm
Presented by The Umbrella Community Arts Center in The Gallery at Villageworks, 525 Massachusetts Ave, Acton, MA 01720
Inspired by Gifford Pierce's (1937-1999) geometric studies in color and form, The Umbrella Community Arts Center is coordinating Driven to Abstraction, a juried show to be exhibited in The Gallery at Villageworks.
This show is open to all 2D artists who work in the abstract. Juried work from around the region will be displayed alongside a selection of Pierce's paintings from the collection of Nancy and Elliot Lilien.
Pierce's artwork will be on sale to benefit The Umbrella Community Arts Center, a non-profit whose mission is to build a vibrant community through the arts.
Submission Details:
All work must be able to be displayed on the wall, there are no pedestals in this gallery.
Each artist can submit up to three pieces
All work must be finished and ready to hang.  Pieces without proper hanging equipment will not be exhibited.
All pieces must be for sale. Each work must be signed and labeled on the back with title, size, medium, and price
The Gallery at Villageworks is a mixed-use space, artists display work at their own risk.
To Apply: Email the following materials to Miranda Aisling Hynes, Studio Arts Coordinator, at miranda@theumbrellaarts.org by Monday, September 11 at 5:00 pm:
High Resolution JPEG images of 3 pieces labeled as follows: LastName_FirstName(1)
An image list with size, medium, date, and price
An artist statement and CV
$35 non-refundable fee for up to 3 pieces paid via Paypal at: http://theumbrellaarts.org/arts-gallery/call-art
Accepted artists will be notified by Friday, September 15 at 5:00 pm and will need to be able to drop off their work between 9:00 am and 5:00 pm on Monday September 25 or Tuesday, September 26.
Artwork will need to be picked up between 9:00 am and 5:00 on Wednesday, November 1, 2017.
All work must be for sale.  The Umbrella takes 25% of each sale and the balance will be paid at the end of the show. The artist agrees to allow accepted work to remain with the exhibit until the close of the show.  We reserve the right to photograph work for publicity purposes.
Images from Driven to Abstraction, 2015